Groundhog Technologies is delighted to be listed in the UK5G Supplier Directory. By joining the UK5G Innovation Network community, Groundhog Technologies will be offering the Mobility Intelligence Platform with the hopes of creating Geolocation value from RAN planning and optimization to customer service and marketing.
Groundhog Technologies' core solutions include CovMo, DEP (Data Enrichment Platform), and DSP (Demand Side Platform) that are powered by sophisticated modeling techniques used to understand and predict the mobility patterns of mobile subscribers in space and time. The company has also developed advanced Geo-APIs that can be integrated with other systems, such as CEM (Customer Experience Management), SON (Self-Organizing Networks), DPI (Deep Packet Inspection), customer care, and apps.
The company is excited to feature the 5G revolution in the UK and provide AI-powered mobile big data analytics for European network operators.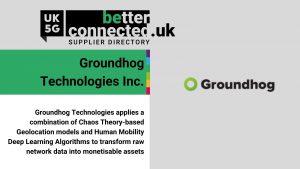 About UK5G
UK5G is the national innovation network dedicated to the research, collaboration, and commercial application of 5G in the UK. The organization joins up businesses, large and small, academic institutions, and the public sector throughout the UK to facilitate wide-spread education on the potential of 5G and enable technological and commercial innovation.
About Groundhog Technologies
Groundhog Technologies is the leading provider of Mobility Intelligence. Our solutions can reveal the locations, Quality of Experience (QoE), context, and lifestyles of all mobile users in the operator's entire network 24×7. This carrier-grade platform continuously transforms billions of daily network events and petabytes of data into ubiquitous intelligence. This invaluable knowledge empowers our partners to improve services and generate new revenue streams across various departments: Network & Operations, Customer Experience, Sales & Marketing, Digital Services, and now being extended to the Public Health domain. Since 2001, Groundhog Technologies has been helping the foremost operators in the world to maximize their network and business potential.